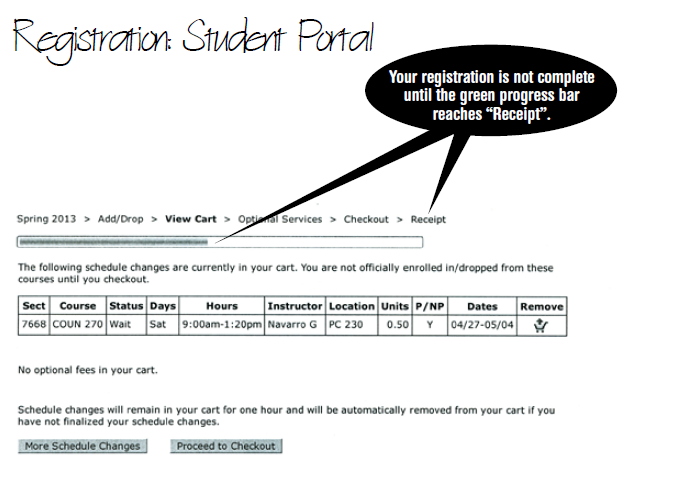 Registration: Student Portal
The registration system is accessed from your student portal. You may register during your priority time and anytime thereafter. You can register for a few classes and later login to add more and/or drop classes.
During priority registration, you will be able to register for a maximum of 16 units. Beginning with open registration, you will then be able to add additional units up to 20 units. Any additional units above 20 requires special approval through a petition process that you can initiate with a Counselor.
Make sure you complete your transaction of adding or dropping classes by following the green progress bar at the top of your screen and end by clicking "Finalize Schedule Changes." Counselors recommend that you check your schedule after registering to make sure it reflects what you intended.
Wait Lists
If you are registered as a "WAIT LIST" student, you MUST show up to first class meeting. A "WAIT LIST" registration is an official registration that you have been charged fees for and is part of your class schedule. You will NOT be notified in advance about whether you will be accepted into the class; you must report to class in-person or login for an online class to determine if you will be elevated to a permanent enrollment.